Welcome to High Wycombe & District Model Railway Society
Formed in the late 60's/early 70's, HWDMRS has developed into one of the leading Model Railway clubs west of London, if not in the South East.
Since the May we have had a safe and controlled return to our clubrooms for our members, with a layout roster and procedures in place. 
Members are reminded to check the roster and book your visits in advance and adhere to all the procedures during your visit.
All other background work of the Club continues as usual, using virtual meetings via Zoom where necessary.
Due to the current COVID-19 situation 

around organising large events 

we have reluctantly made the decision to cancel Wycrail 2021.
Our society is located in our own dedicated in Duke Street, right in the heart of High Wycombe, right next to the railway station.
We have various layouts of British or American genre in scales O, OO/HO and N and these are set up for running and working on  at our new clubrooms.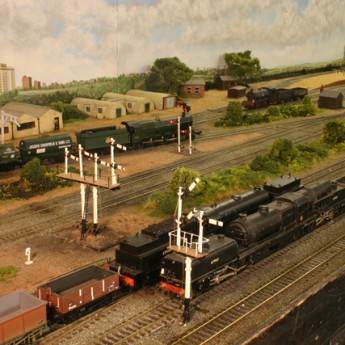 These layouts are continually being upgraded and operated by members and guests on the official club nights – Monday and Wednesday evening.
We hold an annual exhibition, WYCRAIL – more information regarding this show can be found by clicking the  BLUE  WYCRAIL Box on the top right of this page.
If  want to find out more about the Society, our facilities, layouts and the benefits that becoming a member can bring get in contact with us here. We really look forward to meeting you.
We hope you will find our website interesting and that you may wish to take advantage of our activities by joining the club. Details of our membership can be found by selecting the MEMBERSHIP tab above.
FOR SALE
Our Exclusive Limited Edition Private Owner Wagon
as used by a Wycombe Coal distributor.

To order this wagon please download the order form and follow the instructions. Thank you