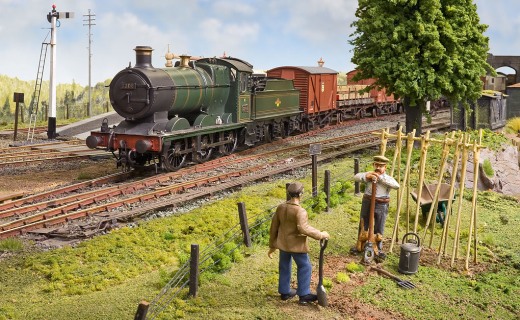 What we are about
High Wycombe Model Railway Club encourages a wide variety of modelling
Scale
We have model railway layouts in four main scales:
O Scale – at 6.4mm or 7mm to the foot
OO Scale – at 4mm to the foot
HO Scale – 3.5mm to the foot
N scale – 2mm to the foot
We enjoy the choice – so can you!
Place
Many of our members model UK railways, including the "Big Four" companies and British Rail. Models are based on real or imagined places around the country so they look and feel very different.
We also have a modellers of North American prototypes, admiring places as far apart as Maine, Montana and Alaska – not forgetting Canada.
Time
Most of our models show places and landscapes which reflect the past, partly because of the fun of modelling steam locomotives. But there are no rules about this; informal groups emerge at the club to make models of particular times and places, often showing how railways served the needs of the time.
Narrow-minded?
Certainly not! Most of our work is in "standard gauge" but some members also work in narrow-gauge and others are interested.
Our club is a place where a common interest is expressed in a variety of creative and skilful ways. It's a place you would enjoy visiting.
Drop in and see us sometime!